EL PAIS
"Los dialogos surgen en todos les direcciones con los solista de trumpetam estupendo Gabriele Cassone."
THE NEWYORK TIMES
"I never heard the stratospheric trumpet part in Concerto II played with such bravura and pinpoint accurancy as Gabriele Cassone playes it here."
EL MUNDO
"Domina absolutamente el protagonista - estupendo Gabriele Cassone - con respuesta del metal y discreto fondo de los demas"
CORRIERE DELLA SERA
"...si è come accesa di armonici sontuosi la splendida tromba di Gabriele Cassone, tutta fasti alla Bisanzio."
NORWEGIAN BROADCASTING
"Bachs Brandeburg 2, in our opinion his trumpetplayin is quite remarcable, not to say unbelievable."
THE SUNDAY TIMES
"Beautiful blending of two instruments. In both Frigé's and Cassone's playing there was a smooth integration of the two instruments..."
THE INDIPENDENT
"he plays from memory with complete assurance, he pitched staccato accents and sustained notes of a 30-strong orchestra"
IL MATTINO
"Un ricordo particolare va a Gabriele Cassone che con la sua tromba naturale ha dato ancora una volta una grande prova interpretativa"
FESTIVAL BERIO alla SCALA di Milano, intervista a Luciano Berio
"Gabriele Cassone che reputo uno dei più grandi esecutori di tromba sulla Terra"
"Concerti e sonate per 1,2,4 e 5 trombe"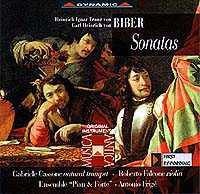 H. I. F. Biber, K. Biber
None
Ens. Pian&Forte G.Cassone Tromba

A. Frigé organo

Dynamic Records (1999)
Repertoire: "Les deux sonates con tromba nous régalent de sonorités de trompettes carnues et policées, enpreintes d'une grande noblesse... Roberto Falcone est un violon sensuel, précis et soigné..."

Diapason: "...Gabriele Cassone, trompettiste de valeur, et ses collègues italiens n'en rajoutent d'ailleurs pas. Toutes les pages avec trompettes sont jouées avec la majeste et la vigueur qu'elles réclament"

Amadeus: "...qui si ascoltano sei sonate in cui primeggia un impiego brillantissimo delle trombe... Ma l'esecuzione dell'Ensemble Pian & Forte è sottile, ed allude ad altro ancora.
...Gestisce con sicurezza il virtuosismo esagerato e anamorfico di queste composizioni..."

Gramophone: "...Biber's supremely engaging set of sonatas, Sonatae tam aris from 1676, is represented in two works which... again reveal Cassone to be a thrilling and masterful trumpeter.
... The programme also includes the beguilding scordatura G minor Sonata...
which is notable for an exquisitely doleful Passacaglia.
...The famous Sonata representativa for solo violin is given a spirited reading (complete with ad hoc percussion)"

Fanfare: "...The Ensemble "Pian & Forte," in its lightweight and tongue-in-cheek performance of Heinrich's Sonata representativa, provides the most obvious basis for comparison of their style...
"Pian & Forte" emphasizes the piece's with and transparency while still realizing the violin part's stunning virtuosity. Biber's music, much of it earlier than Corelli's and less thoroughly regulated by sequential processes in its spinning-out, can seem as random as patterns generated by a screen saver fascinating at first but ultimately wearying. The performers must provide the discipline necessary to keep the music decently rectilinear. This the Ensemble "Pian & Forte" consistently succeeds in doing. The violinist's virtuosity brightens not only Heinrich's Sonata representativa but also the slow movement of the first of Carl's sonatas for clarino solo, while the trumpeters exercise a silvery command that has a thrilling effect (after the listener gets used to the intonation of the natural instruments), and the final sonata in the program, for trumpets, strings, and timpani, is a tour de force for everyone involved. With the addition of the more accessible music of his son in spacious recorded sound, Ensemble "Pian & Forte"'s collection should satisfy both inquirers and collectors. Recommended to both."